Local 881 Members at Jewel ACCEPT the New Contract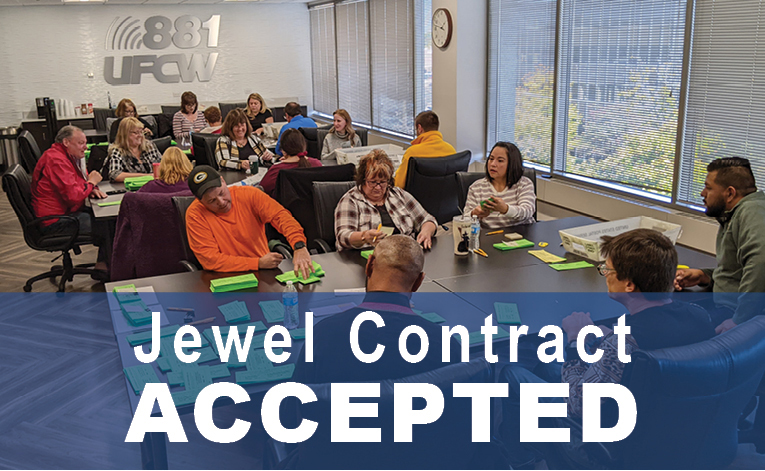 Today members from Jewel Local 881 Bargaining Committee counted ALL ballots received. Several rank-and-file Jewel members were also attendance as observers and counters. We are pleased to report that the new three-year contract has been approved and accepted by a majority of the members of Jewel Foods Stores.
This has truly been a unique bargaining cycle; unlike any we have ever seen. When the first agreement was rejected by Jewel members in August, it was a wake-up call for your employer but also quite honestly, for the Union. We recognized during the first round, that there was a disconnect between the members and the truth about how the bargaining process works. As a result, your Union was committed to investing more time being present and available in the stores to talk and work through the concerns of the membership.
What has transpired over the last few months has been incredible. A new wave of Union activism and engagement on the part of Local 881 members has occurred. What started with apathy and frustration ended with productive conversations. There were members that were OPPOSED to the direction of the new contract and there were others that were in FAVOR. Whether for or against, we are so proud that Local 881 members spoke up, asked good questions, came to meetings, called the office, talked to their coworkers, pushed for a better agreement, and most of all took the time to be involved in this process.
Going back to the negotiation table was a huge risk! We could have faced concessions and takeaways. But the committee was emboldened by the incredibly clear and vocal direction from the membership about needing to get to a better offer!
After several bargaining sessions, the negotiating committee was able to achieve their two most important goals:
Improve the offer; and
Protect ALL previously hard-won contractual benefits
Contract improvements include:
No Takeaways! Absolutely nothing was conceded or taken away from our previous contractual benefits, rights, and protections.
Larger Initial Increases for Top of Scale members.
Premium Pay Increases for Personnel, Scan Coordinators, and Receivers.
Retro Pay for new contractual wage increases will be retroactive to July 31, 2022.
Wellness Rates Protected Within Albertson's, Local 881 is the only Union to maintain this program that helps lower your healthcare costs.
Guaranteed annual wage increases for ALL members.
Considerable wage increases for Top of Scale and Overscale members.
Controlled costs for out-of-pocket health care expenses and deductibles.
Healthcare benefit eligibility reduced from 5 years to 3 years for part-timers.
New treatments added to health care plan.
Expanded funeral leave.
We want to recognize the hard work of the negotiating committee members. Their time and input have been invaluable. It's not easy to stand up to your employer, but these brave members did. We are grateful for their service and dedication to the Union and to their fellow Jewel coworkers.
Now that the contract is signed, our work is NOT over, it is only just beginning. The future is uncertain. The industry is changing rapidly. The looming merger recently announced will become our Union's top priority in working to OPPOSE any corporate power grab that could potentially impact our members' livelihoods.
We understand and expect that some Jewel members will be unhappy with the new contract, and with the Union. We know that we have work to do in earning your trust. If you're angry, let's talk about it. Come to a meeting, get involved, speak with your Union Rep, speak with President Powell, we are available and open to constructive criticism. With your passion, activism, and involvement we will only be stronger.
You might be upset with the Union, and you might not love or agree with everything we do, but the reality is we will always have your back. Your employer is busy trying to make every buck they can and would love nothing more than to see division within our ranks. We need to use ALL our collective strength for what is coming! We have been proud to represent Jewel workers for decades and we have never wavered from our commitment to protecting and fighting on your behalf.
It is our privilege to be at your service. Should you have any questions, please contact your Union Representative at 847-294-5064 to discuss any concerns you have.