Illinois General Assembly Passes Historic Protections for Essential Retail Workers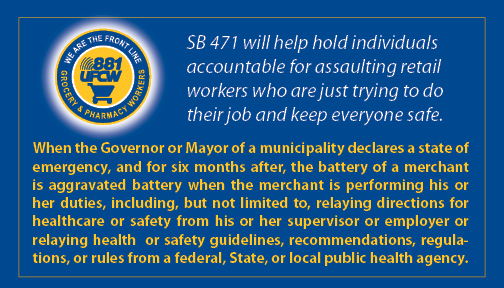 Springfield, IL – Local 881 United Food and Commercial Workers (UFCW) was successful in getting the Illinois General Assembly to pass first of its kind protections for essential retail workers who are attacked on the job during the COVID-19 public health pandemic.
SB471, which passed the Illinois House 95-10 and the Illinois Senate 47-3, now heads to the Governor's desk for his signature and would become effective immediately. Motivated by representing over 34,000 frontline retail workers who are increasingly reporting customer assaults while on the job, Local 881 UFCW amended the Criminal Code to ensure:
When the Governor or Mayor of a municipality declares a state of emergency, and for six months after, the battery of a merchant is aggravated battery when the merchant is performing his or her duties, including, but not limited to, relaying directions for healthcare or safety from his or her supervisor or employer or relaying health or safety guidelines, recommendations, regulations, or rules from a federal, State, or local public health agency.
As public health officials including the Center for Disease Control, Illinois Department of Public Health, and the Chicago Department of Public Health, have mandated masks to be worn when in public, to abide by social distancing in public spaces like grocery stores, and while many retailers have imposed the same policies and enacted some store limits on in-demand products, it has increasingly fallen to frontline workers to enforce government and company mandates. Unfortunately, that has led to a sharp and alarming increase in assaults on retail workers from customers. Examples of that in Illinois and nationally have been covered here, here, and here.
Applauding the passage of SB471, Local 881 UFCW President Steven Powell, offered the following statement:
"Passage of SB471 is a victory for retail workers in Illinois. On behalf of the over 34,000 members of Local 881 UFCW, who continue to staff the frontlines of the Coronavirus pandemic, keeping our communities and families fed and medicated, we thank the Illinois General Assembly for acting quickly to pass the bill we crafted to provide meaningful protections for workers who face the brunt of customer panic and frustrations during disasters.
As we have all witnessed, grocery stores have become chaotic environments for both customers and workers. Unfortunately, some customers have not been acting in a safe and responsible manner and have put our member's safety and physical wellbeing in jeopardy. Each day, across thousands of shifts, our members encounter hundreds of thousands of shoppers as they continue to staff grocery and retail stores across our state. It is no surprise then that our members are so adamant that customers abide by reasonable health guidelines so that they can protect themselves, their co-workers, their families, and the wider community. They should be able to do so without fear of retaliation and physical harm.
Not only do workers in this vulnerable position face the threat of exposure by being in close proximity to customers ignoring rules of social distancing or refusing to wear masks, they at times, have also faced the wrath of customer's frustrations, with an alarming increase of reports of physical attack, and in one terrible case in Michigan ending in a loss of life. Without companies stepping up to provide necessary crowd control or security officers to enforce store and government mandates before a customer enters, this new law will help hold individuals accountable for assaulting retail workers who are just trying to do their job and keep everyone safe.
Special thanks and sincere gratitude go to all the supporters of the bill, but especially the sponsors and key advocates including Senators Kimberly Lightford, Elgie Sims, and Ram Villivalam; along with Representatives Jay Hoffman and Marcus Evans. Our members honor their continued dedication to working families."
###
Local 881 UFCW represents 34,000 members employed in retail food and drug stores throughout Illinois and Northwest Indiana, as well as a professional division comprised of health and nursing home workers, barbers and cosmetologists, and workers in other retail and service industries. Among the companies under contract with Local 881 are Jewel Food Stores, Osco Drug, Mariano's Fresh Market, CVS Pharmacy, Kroger, Schnucks, and many smaller chains and independent stores, as well as nursing homes and other business establishments. Local 881 is among the largest affiliates of the United Food and Commercial Workers International Union, which represents 1.3 million members in the United States, Canada and Puerto Rico.