Curaleaf Workers are Showing their Strength and Worth!
Cannabis workers from Curaleaf are joining Local 881 to change the booming cannabis industry!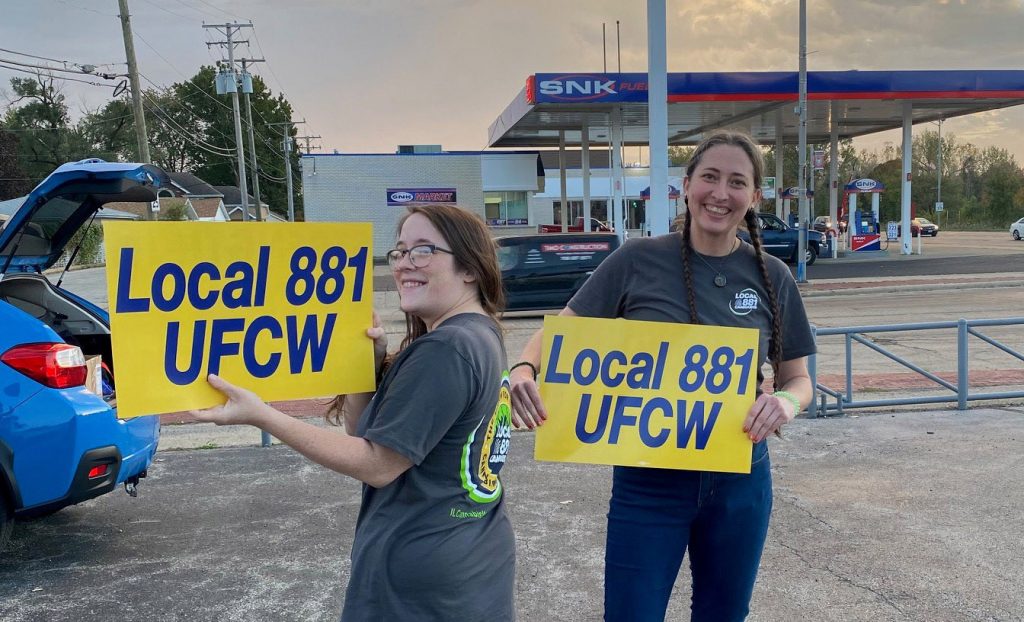 For Immediate Release                
Worth, IL – On October 20, 2021 cannabis workers at the Curaleaf dispensary in Worth won their Union representation election and will join Local 881 of the United Food and Commercial Workers, the Union for Cannabis Workers in Illinois. Curaleaf, one of the largest multi-state cannabis companies, currently operates 10 dispensaries in Illinois.
The workers were motivated to unionize, after watching their coworkers at the Chicago Weed Street Curaleaf/Windy City Cannabis dispensary join Local 881 UFCW earlier in March. Workers at the Curaleaf Worth dispensary cited issues such as inadequate wages, scheduling problems, lack of benefits, and the need for more COVID-19 protections. As the workers began to speak up about their concerns, the company enlisted third-party anti-union consultants and HR reps to discourage the workers from unionizing.
"I'm so proud that we were able to find our power and voice through this campaign. Curaleaf is making record profits while the workers are struggling to pay bills. They offer us crumbs and tell us we should be grateful, it's time we demand more." explained DJ, a Patient Counselor at the Worth Curaleaf. "We are so excited to negotiate for better pay, working conditions, and dignity in the workplace."
The National Labor Relations Board will certify the results of the election in seven days barring objections. An overwhelming majority of the 35 workers at the dispensary voted to join Local 881 UFCW. These workers voted yes to join the Union hoping to dramatically improve their working conditions. Local 881 is proud to be working with Curaleaf workers across Illinois. In the next two weeks, the Curaleaf dispensary workers from Skokie and Mokena will vote in their union representation elections. 
"Illinois welcomed the cannabis industry with open arms and the larger companies, like Curaleaf, are clearly reaping all the benefits and posting major revenue gains. Recreational cannabis legislation promised these companies would provide good jobs and benefit local communities. It's clear now that the companies need to be held accountable for how they operate and more importantly how they treat their workers," said Steve Powell, Local 881 UFCW President. "Local 881 has been proud to help create better careers for cannabis workers, and we look forward to negotiating the security that only a union contract can provide for the Curaleaf workers." 
Local 881 is proud to be the first and only Union to negotiate Cannabis contracts in Illinois with Cresco Labs in Joliet and with the Sunnyside Dispensary in Chicago (Lakeview). Local 881 has been successful in negotiating wage increases, more paid leave, increased employee product discount, a robust grievance procedure, and stronger protection language for cannabis workers. Local 881 is committed to ensuring that the cannabis industry lives up to the promises it made to the communities when it lobbied for their support for legalization.
For more information about the fight to improve the Cannabis industry in Illinois, visit: ILCannabisWorkersUnited.org
###
Contact: Teresa Ramirez-Gonzalez, Local 881 Director of Organizing
[email protected] | 630-254-3090