Curaleaf Cultivation Workers in Litchfield Vote Union Yes
Curaleaf Workers Deserve to Have a Voice!
A new group of Curaleaf workers have voted overwhelming to join Local 881 UFCW, the largest cannabis union in Illinois. The workers at Curaleaf's cultivation facility in Litchfield, Illinois held their Union Representation election on November 1, 2023.
Usually when the majority of votes from workers are in the Union's favor, under U.S. Labor Law, the company is obligated to recognize the Union. However, Curaleaf has chosen to delay this recognition and with frivolous, unbased objections to the validity of the election process. Although technically allowed, "Union avoidance" tactics like this clearly show the company is trying to stall and create roadblocks for the workers to exercise their legal right to unionize. Curaleaf has chosen to begin what could be an expensive legal battle instead of respecting the wishes of their workers.
Nearly 100 Litchfield workers have been fed up with the working conditions and the culture of disrespect that Curaleaf has cultivated since taking over the facility in 2021. Despite growing and selling a progressive and cutting-edge product, Curaleaf's business practices are just as anti-worker as the big corporations. The workers are tired of the fear-based culture and environment of intimidation. The workers demand Curaleaf do better!
Workers from the Litchfield facility approached Local 881 after learning about the Curaleaf Dispensary workers' organizing efforts. Curaleaf dispensary workers described 'Hunger Game" type working conditions. The dispensary workers from across the state made time to meet with the Litchfield workers and confirmed that the Company's tactics and practices need to be changed. The best way to do that is for cannabis workers to join Local 881!
"I personally wanted a union for safety. We are not that safe at work. Sometimes we have small pathways to walk through even in the hallways. There was one time they were doing electrical work and I had to walk right under an electrical cord that the tech held up for me. They were blocking the whole hallway. I've been there a little over a year, and safety is definitely an issue."
Ashley Thompson, Production Technician at Curaleaf Litchfield
Curaleaf workers in Litchfield have reported the following issues:
Serious health and safety concerns, including workers getting sick, and lack of protection from facility hazards.
Workers being thrown into different roles without proper training and without commensurate compensation for taking on more responsibilities.
If a worker raised concerns with management, the worker would experience retaliation and be isolated from their coworkers. Curaleaf also called their employees names like, 'poison' or 'the root of evil'.
Workers tried organizing in the past. The company responded with aggressive union-busting tactics and hiring paid HR consultants to convince workers to vote against the Union.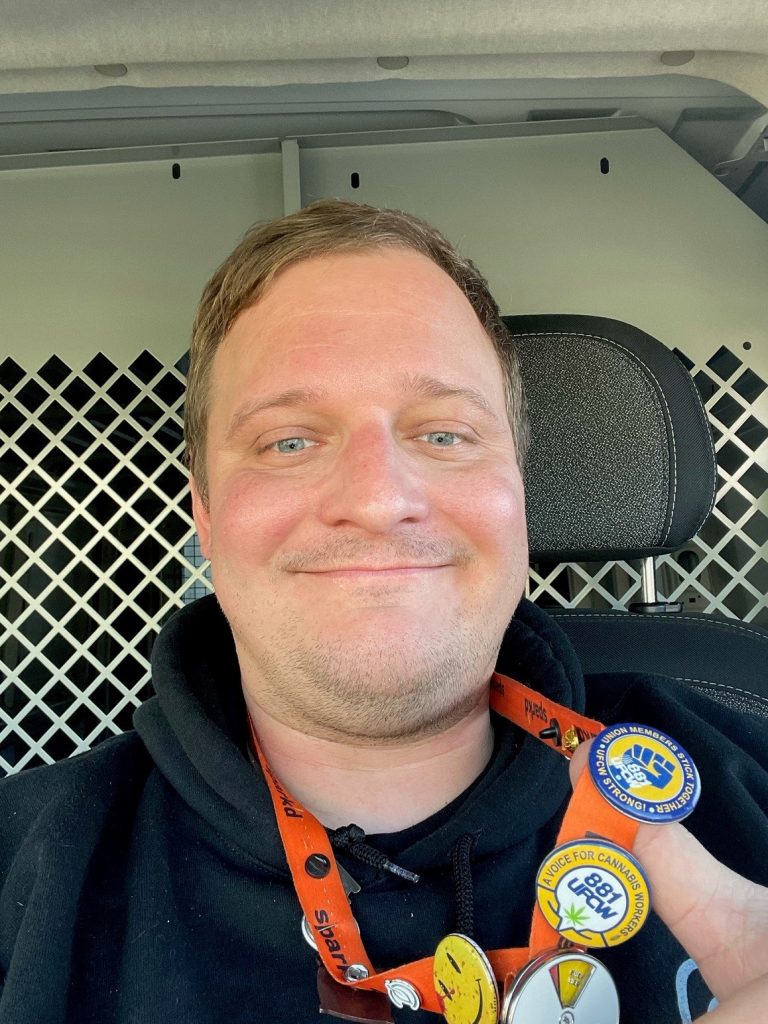 "I want a job title and to know what I'm walking into every day! I want fair wages and a say in how my work operates! I want my voice heard!"
Jack Brockus, Delivery Driver
"The Curaleaf Litchfield workers have clearly spoken. They want Union Representation with Local 881," said Steve Powell, President, Local 881UFCW. "Workers want to be respected and heard. When workers stand up together, they are hard to ignore! It's time for Curaleaf to listen!"
We are incredibly proud of these brave workers who are standing up for positive and meaningful change in this industry and we are diligently supporting them. Local 881 is honored to represent cannabis workers at nine locations throughout Illinois. For over a decade, Local 881 has been committed to ensuring that the cannabis industry lives up to the promises it made to the communities when it lobbied for their support for legalization. Our Union has been successful in negotiating wage increases, more paid leave, increased employee product discount, a robust grievance procedure, and stronger protection language for cannabis workers.
Interested in unionizing? Contact Teresa Ramirez-Gonzalez.