Reconnecting With Our Incredible Stewards
On Tuesday, September 12th, we had our annual Steward Conference at Gibson's Steakhouse in Oak Brook. Among the bright greetings from our Officers and the excited faces of the Stewards, we had an informative and entertaining Conference planned.
We strongly believe our Stewards are one of our Union's most important assets. Every day they help answer questions about their contracts and provide valuable information to their coworkers. They are a critical link between the Union and our members.  Each year, Local 881 invests time and resources to help train and educate our dedicated Stewards.
Important Topics of Discussion
This year, we had several important topics of discussion. Local 881's Organizing team highlighted the very successful La Colombe Coffee and Windy City Cannabis campaign victories. Their dedication to fighting for the rights of workers and success in doing so is something we celebrated together at the conference.
The Local 881 Collective Bargaining Team walked Stewards through the ins and outs of negotiating new contracts as well as contract renewals. They highlighted the important role Stewards play in sharing contract feedback from members with the Union.
Stewards also heard from Jonathan Karmel, Local 881's Chief Legal Counsel. Jon explained the ways the Union is supported and protected by having legal guidance during organizing campaigns, collective bargaining, and grievances.
Our President addressed the "elephant in the room", the Merger with Kroger and Albertson's. He answered questions from Stewards and helped provide more information and insight into what we know and what our goals are.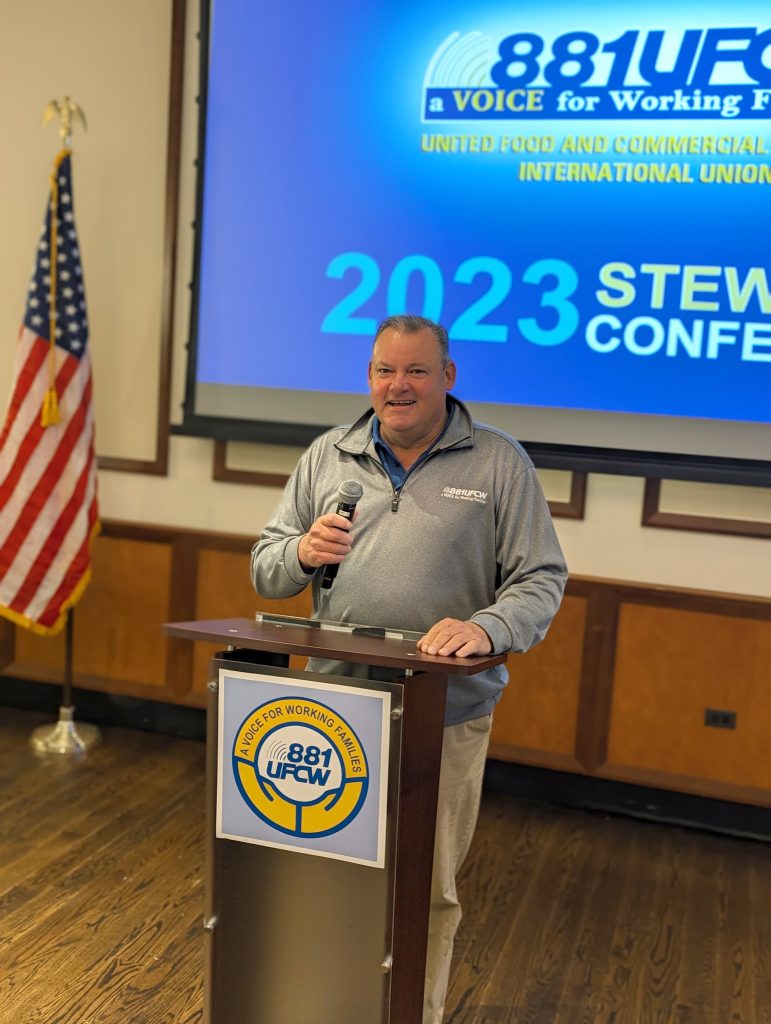 Aside from the important information that was exchanged and celebrated during the Conference. We also had lots of fun playing lots of different games! Our Communications department orchestrated and created fun interactive games such as "Pick Three" and "Meet Your New Union Representatives". A $50 Visa Gift card was raffled off and all Stewards took home Union buttons and their own Yeti cups as a thank you and appreciation for their hard work!
Celebrating Our Wonderful Stewards
To conclude the Steward Conference, we took our time to celebrate our Stewards. We all gave a round of applause for their service, their hard work, and their continued perseverance to help the workers. We enjoyed a wonderful lunch at Gibson's, chatting and reconnecting after a 4-year hiatus due to COVID. We had drinks and good conversation at the open bar, as well as the monumental desserts that were shared with everyone. 
Thank you to all our Stewards who were able to attend the 2023 Conference! Local 881 is proud to have hosted you and celebrated all your hard work.